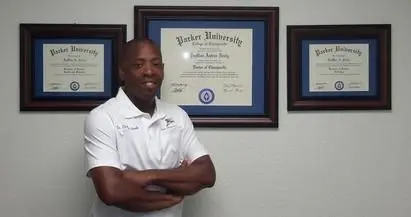 Dr. DeMon Neely was born and raised in Dallas, Tx. After graduating high school he attended Lamar University and the University of North Texas (UNT) majoring in biology. After UNT Dr. Neely worked as a microbiologist at LabCorp for over nine years. During the latter stages of his time at LabCorp, Dr. Neely, began to ask himself if there was another aspect of healthcare that would allow him to better use his desire to help others. As he began to do some research he felt chiropractic would be the best avenue to fulfill this desire.
Making the change...
Dr. Neely decided to enroll into Parker College of Chiropractic to pursue his Doctorate of Chiropractic. During his time at Parker he received a Bachelor of Science in Anatomy and a Bachelor of Science in Health and Wellness. After completing classroom and clinical internship on December 13, 2014 Dr. Neely received his Doctorate of Chiropractic degree.
Life outside the clinic...
Please don't take chances with your health. A wellness plan that's easy to understand and follow through on is key to good health all through your life. Make chiropractic a cornerstone of that plan, and you're well on your way to living a life that's active and free from pain.